In this day and age, mobile phones are an essential everyday item. Everyone uses their phone for both personal and work-related purposes. Most importantly, people are searching for products, services, and businesses while using mobile phones all the time.
To make your website more searchable for nearby customers, you need to optimise your website for local SEO. Local search engine optimisation is all about improving your online presence for local search results. It is a vital part of SEO that all small businesses must consider for their marketing strategy.
AN INTRODUCTION TO LOCAL SEO
Local SEO is the process of optimising your website to rank higher on local search results. Doing so should help you reach out to users looking for something nearby on search engines like Google and Bing.
For instance, most people who are searching for products, services, and businesses near them will use specific keywords, such as:
Fast food near me
Bookstore near me
Pizza nearby
Clothing store in (insert a city or country)
Doctors in (insert a city or country)
Notice how these keywords have one thing in common: locations. All of these terms and phrases mention a place or distance. People using these keywords on Google and Bing are locating a specific product or service within their proximity. Your website can show up on their search results to let them know about your business.
Local SEO is a type of search engine optimisation that focuses on improving a business's local presence. It is similar to organic SEO in some ways. However, the difference is that local search engine optimisation relies on a geographical component to help businesses attract customers locally on search engines.
THE DIFFERENCE BETWEEN A SNACK PACK AND ORGANIC RESULTS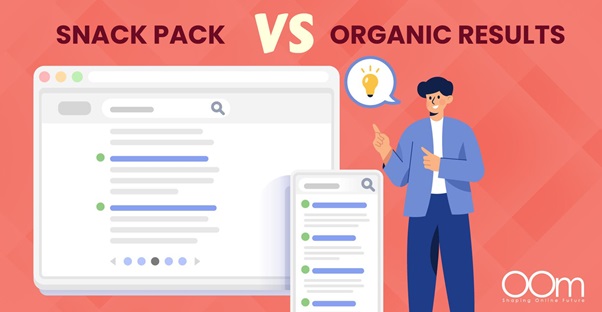 When it comes to local SEO, there are two types of search results: snack pack and organic.
SNACK PACK
Google introduced a feature called "snack pack", a box that appears on the top of a local search engine results page. Results that show up on a snack pack include the most relevant local businesses based on their relevance to search enquiries.
Local SEO can be done with Google my business as well, you need to submit your website to Google, you can use Google indexing service 
Businesses that appear on a Google snack pack have a higher amount of organic traffic than others. Your small business can reap the same rewards if you optimise it for local SEO. In doing so, you can reach out to hundreds of potential customers.
Also, a snack pack contains vital information about the mentioned businesses. With the help of local SEO services, your website can appear on a snack pack to display important info about your business, including its contact details, address, opening/closing hours, and many more.
A snack pack will showcase tons of other information, such as:
Business description
Customer reviews and ratings
Images
Website
These details should provide potential customers with everything they need to know about a business. That is why local SEO services are essential for small businesses. By ranking high on local search results, you can reach more customers quickly and efficiently. All of your contact information is readily available for everyone to see on Google.
ORGANIC RESULTS
On the other hand, organic results are regular results that show up on search engines and display links to websites with the most traffic. Improving your SEO rankings will allow your website to rank higher on organic results.
No doubt that SEO is vital for achieving high rankings. However, focusing on organic SEO alone may not provide you with the best outcome when it comes to your local search presence.
The good news is that local SEO services affect both organic and snack pack results to give you the best of both worlds. Combining local and organic optimisation is the best way to obtain the best amount of traffic. Make it a priority to rank high on both types of search engine results so you can attract as many customers as possible.
LOCAL SEO: HOW TO RANK HIGHER?
Almost half of all online searches are local. Customers are more likely to visit a physical store if they know more about the business by visiting its website. If you want to attract more customers, local SEO might be the secret recipe for your success.
Local search engine optimisation is mostly similar to organic SEO services in Singapore. The goal is the same: to improve your rankings. However, the methods of achieving your goal are slightly different.
Here are some tips for improving your online presence locally through local SEO services.
4 LOCAL SEO TIPS FOR A HIGHER RANKING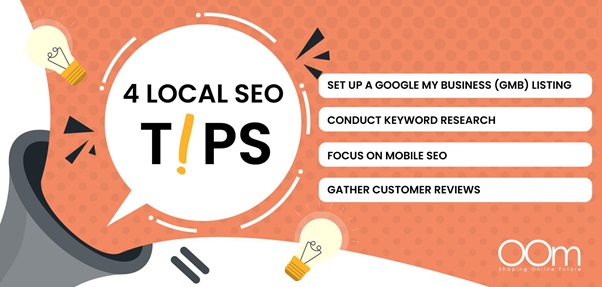 1. SET UP A GOOGLE MY BUSINESS (GMB) LISTING
As mentioned earlier, Google has a snack pack feature that showcases the top three local businesses based on specific keywords. When it comes to local SEO, your goal is to get Google to feature your business in a snack pack. To do so, start by creating a Google My Business (GMB) listing.
Your GMB listing is the first step to success for local search engine optimisation. It contains all the information your customers need when they search for your business on Google. Apart from that, a GMB listing is also a local ranking factor. You can gain the upper hand over your competitors if you have a well-optimised and updated GMB listing.
Use GMB to improve your local rankings. All you have to do is create a GMB listing, which is easy and quick. Sign in to your Google account and set up a GMB profile. From there, you will need to enter essential business information, including its address.
The next step is to include additional info, including your website URL, phone number, and business category. Once you have everything prepared, the final piece of the puzzle is to verify your profile.
GMB is vital for local SEO. Review your business information and update your profile from time to time. It will help you rank higher on both Google Maps and Google Search.
An optimised GMB listing is key to success. Your listing should display valuable information, everything from your address and contact details, down to customer reviews and commonly answered questions. You can make a good impression of your business just by optimising your GMB listing.
2. CONDUCT KEYWORD RESEARCH
Compared to other types of SEO, keyword research for local search engine optimisation is mostly the same. However, there are a few changes that you should consider.
For instance, when it comes to local SEO, you need to target keywords with local intent. That means your keyword list should include common phrases and terms such as "near me", "nearby", and names of locations. Optimise your content based on these keywords to reach potential customers looking for your business.
Also, you have to consider using keywords for voice search. Many people use voice search to look for products or services within their proximity by uttering phrases like "find a clinic near me" or "where is the nearest restaurant?" to their phones. You can use keywords for local queries based on voice search to improve your rankings.
Use relevant keywords when creating content for your website and GMB listing. Keywords are highly effective when used properly for SEO and content marketing, so utilise them as much as possible to improve your rankings.
The best part about keywords is that they can indirectly benefit your ranking if someone else uses them. This type of strategy works whenever a customer reviews your business and uses relevant keywords. Search for commonly used terms and phrases related to your business to achieve better rankings.
3. FOCUS ON MOBILE SEO
There is no denying that mobiles are becoming increasingly accessible today. As a result, many marketers are focusing on SEO services in Singapore for mobile phones and devices.
Smartphones also play a significant role in local SEO. A lot of people are using phones and tablets to look for products and services. In that case, you have to optimise your website for mobile SEO.
A simple way to improve your local rankings is by optimising your website for mobile phones and devices. Ensure that your website loads quickly and has a sizable font to make the texts easily readable for mobile users. Improve your website's user interface (UI) to provide customers with a user-friendly experience.
Optimising your website for mobile SEO will improve your online presence both organically and locally. Check your website and ensure that it is performing well for mobile users. Google considers mobile-friendliness as a ranking factor, so your website should be mobile-friendly at all times.
4. GATHER CUSTOMER REVIEWS
Customer reviews are signals to ranking factors for local SEO. They signify trustworthiness, allowing you to build trust and credibility by encouraging customers to send feedback.
Besides serving as a symbol of trust and transparency, customer reviews are valuable for your GMB listing. Since your listing should display vital business information, such as your contact details and address, you need to gather customer feedback and upload them on your GMB listing to prove that your business is reliable.
People want proof that their preferred business is trustworthy. Include customer reviews in your GMB listing to establish your credibility. Encourage your customers to give your products or services a rating and review.
Also, always respond to customers who review your business. A simple "thank you" message will work wonders for your local rankings. Even if the feedback is negative, make it a habit to reply.
Most importantly, Google considers the number of positive reviews when evaluating your local rankings. If you are receiving too many negative reviews, try to improve the way you conduct business. Respond to your customers at all times to increase the likelihood of people visiting your store in person.
THE IMPORTANCE OF LOCAL SEO FOR SMALL BUSINESSES
Local SEO benefits small businesses in Singapore the most. Optimise your website for local search to get ahead of your competitors and attract more customers. Not only will your website rank high organically, but Google could also showcase your GMB listing and make you appear on a snack pack.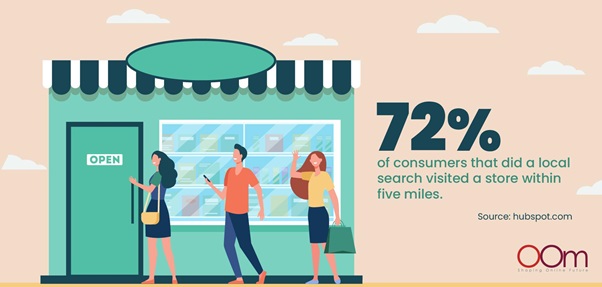 Statistics show that around 72% of consumers searched for a local business online before visiting in person within five miles. Those numbers show how having high local rankings can make a tremendous impact on your business. Improve your web presence locally to reach more potential customers.
Local SEO services also benefit specific businesses, such as law firms, medical institutions, restaurants, and repair centres. They all share one thing in common, and it is the fact that they are always communicating with customers or clients. With excellent web visibility, these businesses can immediately engage with more customers online.
However, even though local SEO can help most businesses, it does not work well as expected for private online sellers and e-commerce shops. These businesses usually do not share local information, so there is no need to invest in local SEO. In such cases, other SEO services, like technical and on-page optimisation, are better contenders to help you succeed.
SUMMARY
Local search engine optimization in Singapore is a must for small businesses. You have to improve your local rankings if your business needs to gain traction quickly. With local SEO, you are one step closer to success. Create a GMB listing and optimise it from time to time.
Besides creating a GMB listing, you can also upload high-quality content for location-specific pages. Doing so should increase the relevance of your website based on local search queries.
In summary, here are some of the ranking signals you should consider when it comes to local SEO:
Your GMB listing
Social media shares
Google Map ratings
Positive and negative reviews
Keyword usage (especially for GMB)
The location of your customers finding your business
All of these signals play a role in your rankings. No matter how minimal or impactful these signals are or your website, they could be the deciding factor that will help you rank higher on local search results.Start your local SEO journey today with the help of a digital marketing agency in Singapore. Contact a digital agency to create an effective SEO strategy specifically for your business.