If you are an esthetician planning to start your own business, this article is for you. The cosmetic industry is worth billions of dollars as of the moment. By the year 2024, the global cosmetic industry is expected to be worth at least $800 billion. That is why now the perfect time to start an esthetician business is. Making individuals feel good about themselves is considered the most rewarding part of this profession.
By running your own clinic, you can make more profit doing things you do best and love. But because nine out of ten startup businesses fail in their first five years of operation, it is very important that owners lay the groundwork for a profitable and successful business before starting to take on customers. From paperwork to planning, marketing strategies, here are some crucial steps people need to take to make sure they achieve success from the get-go.
For more information about this topic, click here for details.
Training that focuses on treating patients
Esthetic treatments like laser therapies and microdermabrasion require certifications and formal training before professionals can perform them on their patients. People should decide which treatments they would like to offer and take the necessary training courses. It can take a lot of time to complete, so people need to plan ahead of time before their business launch to make sure they are qualified for the treatments they want to offer.
Cosmetology license
Except for the state of Connecticut, all U.S. states require every professional esthetician have a cosmetology license to run their own clinic. When professionals have completed their basic esthetician training, they can now apply for their cosmetology license as soon as possible. It will provide them a lot of time to handle delays in the paperwork before they launch their new clinic.
Paperwork and business registration
While the esthetic professional wait for the approval of their license, they can register their business to the appropriate government agencies. They need to choose a brand name, as well as decide which venture structure they want to operate.
There are disadvantages and advantages to every structure business owners can choose, so they need to make sure they do some research on which one will suit their venture plan. They should think ahead: do they want to have one clinic, or are they planning to build a cosmetic franchise? These things will have a considerable effect on their structure.
To find out more about permit and license applications, visit https://www.sba.gov/business-guide/launch-your-business/apply-licenses-permits for more info.
Professional insurance
Owners need to prioritize extensive public liability, as well as professional indemnity insurance, before they handle a client. While the venture will have comprehensive safety protocols in place and check-in areas in their workplace, the cosmetic industry is very unpredictable. Owners need to cover themselves with a profound insurance policy to ensure that litigations do not put them out of business after just a couple of years after opening.
Business finance plans
From bank accounts to finding the necessary loans for the equipment, find out the best way to inject money into the venture. Check out supplier partnerships as a way to control your expenses – especially in the first couple of years of operation. Rent the equipment instead of spending a lot of money buying it. Arrange return-or-sale agreements with various suppliers to minimize financial loss.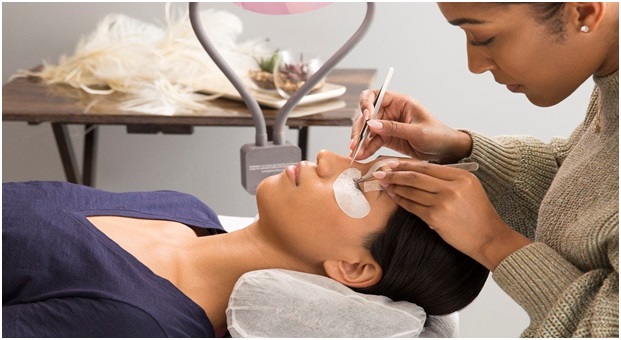 Company branding
When the paperwork is sorted out, it is time to think about how clients will find the company. Before starting marking the new esthetician firm, owners need a strong brand that stands out and is pretty recognizable among other cosmetic companies.
Firms need to hire a reputable designer to create a good and striking logo, font sets, and color palette that they can use for their marketing strategy. Keep a consistent and unique brand style with everything, from the font of the cosmetic packaging down to the logo of the workers' uniforms.
When choosing the brand's color, owners also need to make sure it will suit the company's vision for the clinic's furnishings. The brand should be consistent while being unique throughout everything the company does. If bright neon orange walls do not suit the spa design style of the clinic, avoid using this color in the company's logo.
A detailed or comprehensive marketing plan
Owners should create a comprehensive marketing plan that includes their vision for every quarter of their first year of operation. How will they find customers? What distinctive and peculiar selling points will the company promote to encourage future customers to visit their clinic? Which online marketing platforms will they use?
Ventures should make sure they include plans for social media, print advertisement marketing like business cards and flyers, as well as email marketing. A multi-platform approach will ensure as many future clients see the new clinic as possible. Create some buzz around the launching of the clinic in advance of the official opening date. Consider holding launch events, offering discounts for new customers. You can also ask the local press to try various treatments for free.
A strategic and suitable venue
It is very tempting to find a suitable place with commercial rates and cheap rent, but you need to consider the value of the local target market. Who will pass by the clinic? Who will see avail of the services? If ventures are tucked away on back streets, it is a lot harder to create reputations, as well as promote them to passers-by.
Owners should consider investing in suitable units that are in prominent positions they can afford. Also, make sure that the place offers everything the clinic need. Separate changing rooms, washrooms, showers, pleasant waiting places, and waiting areas for making clients feel welcome and comfortable.
Salon equipment
Owners should invest in high-quality equipment and furnishings that they can afford. It will last longer, as well as provide a luxurious feel to the esthetician's clinic. Some of these things are best rented instead of purchased. Talk to suppliers to find out which brand and model are available for lease. It will allow professionals to upgrade to newer equipment a lot easier in the future.