To make a catchy CV, there are things about you that should not be mentioned. Either because they are not essential, or not relevant to the position sought. To help you get the interview for the job of your dreams, here is the list of elements to remove from your curriculum vitae.
Remove too Personal Data from your CV
Only your surname, first name, address, telephone contacts and email address have room in the header of your resume. Who is interested in your middle names or social security number? Your age, nationality or marital status do not concern recruiters either. Moreover, be aware that an email address like "starof62@yahoo.com" or "littlecutiepie@gmail.com" will make the recruiter smile at best, or run away at worst. Your professionalism will take a hit at the outset. However, indicating the possession of a driving license can be an asset for certain jobs like commercial or driver.
Avoid Mentioning Irrelevant Experiences in your CV
There is no point in presenting your student job if you have 5 years of professional experience, unless it is directly related to the position sought. Just list the most relevant experiences, especially that space is limited in a CV. Too many experiences kill the experience, said many recruitment managers. Why mention a summer job at the local bakery when applying for an international scientific consultant position, for example? The experiences mentioned in the resume must be consistent with the candidate's professional project.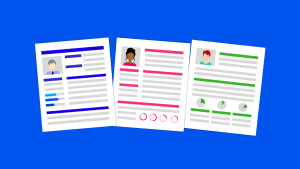 Do not Put Quirky Hobbies in your CV
The "Miscellaneous" or "Hobbies" section often lists a good number of funny things. It can include weird or useless information such as the ability to train lions, the passion for custard or the ability to solve the Rubik's cube in less than thirty seconds. So much the better for you, but why is this the recruiter interested in? Also avoid hobbies that are debatable like bullfighting or hunting for example. The key word is relevance. Everything you express must be consistent with the position sought. This will shorten the time you will spend building you resume. To go even faster and obtain a perfect result, create a CV on CV creator.
Do Not Indicate the Salary Expectations in your CV
Other information to avoid mentioning in a CV is the salary expectations. This point highlights the monetary aspect of your application and can leave doubts as to your motivations to get the job. Every job applicant has to know that the question of salary is only addressed during the recruitment interview. If the ad specifically requests it, specify this information in your cover letter.