Access control systems are a great alternative for those looking to upgrade building security or remove key entry systems. It allows or restricts access to a designated area, a room, or a building. It is an electronically powered kind of physical security with simple management and allows facility-wide access to the approved personnel at right time.
How does access control work?
System users need credentials to gain access. The credentials can be a fob, keycard, mobile app, or even biometric. Some systems' credentials are accessed via an intercom system.
The system manager configures the system based on job titles, shifts, timing, and more. The software has a management portal dashboard where – who can enter the building and under which condition is defined. The system can even have a card-programming machine.
Access control system infrastructure involves card readers, electric locks, and door status to monitor traffic, and requests for device exit are reported to the control panel & server.
Application of access control system
Healthcare, government, education, businesses, worship centers, and enterprises are using an access control system for better security. Barry Bros Security is London's best security company that design and install access control systems suitable to clients' needs. From multi-site remotely managed full auditable access system to single access point stand-alone system, Barry Bros have clients covered.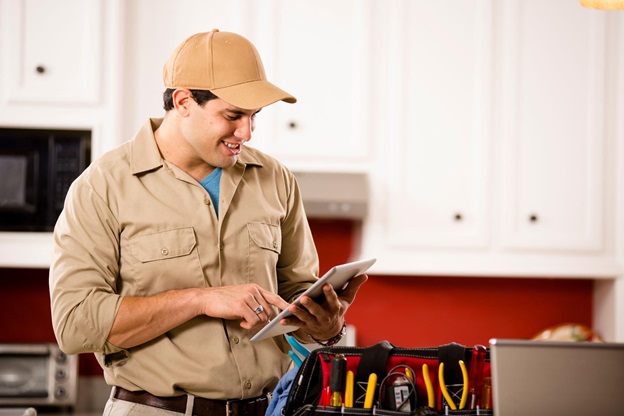 Image Credit: https://www.istockphoto.com/photo/repairman-working-at-customers-home-tools-digital-tablet-gm488412896-74119571?phrase=System%20Installation
How does access control system installation help your business?
Easy employee access
You can set and forget who gains access to every area factory-wide with the access control system. The moment you authorize, an employee can gain access to areas they require to complete their tasks. With keycard scan or PIN input, the approved employees can access areas they need comfortably.
Go keyless
Traditional keys have a couple of drawbacks. To restrict access to designated zones, you need different keys. For a vast facility, you will need more locks. For high-clearance personnel or a janitor, it means carrying a huge key ring. Finding the right key is also confusing. An access control system eliminates the concerns about missing keys and saves time for personnel accessing restricted areas.
Keys can be replicated so anyone can enter the unauthorized room. An employee can forget to lock the main door, which means you are vulnerable in multiple ways/ however, with an access control system you can go keyless and the doors get locked automatically.
Save energy & money
You don't need security guards and locks. The access control security solution verifies the personnel's identity. You can integrate the system with HVAC, and lights. Lights automatically turn on when someone is in the room and switches off when they leave. Temperatures can be adjusted when the area is empty, which means lessening the energy costs.
Monitor building or room visitors
You can check the data of who came and exited the room or building. It ensures employees are committed to working. In case of an accident or threat you know who gained access to that zone. In a vast company, visitors can go undetected.
The access control system doesn't allow unauthorized people to get inside the facility. The door needs credentials before giving access. The system ensures that everyone under the roof is verified to be there, even if you don't know them.