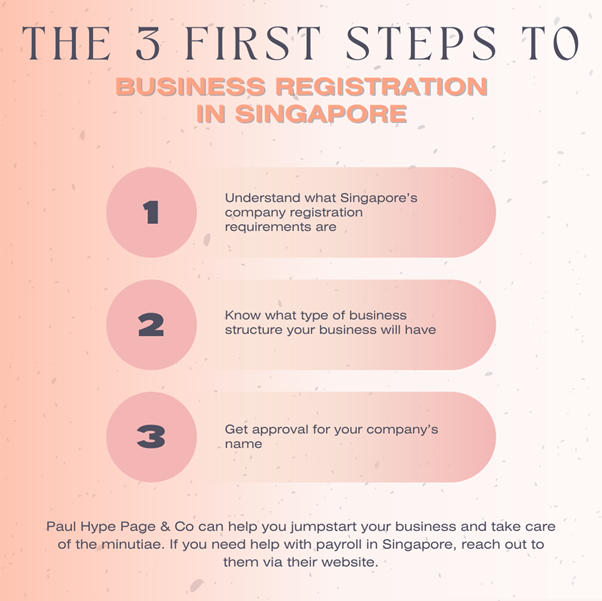 Before you think about who would do your audit services in Singapore, you must already have a business up and running. And before your business can run, you must be able to register your business with the Singapore government. This will allow your business to do normal business transactions and proceedings, and you can help your start up grow with permission.
Registering your business may seem like a near-impossible task, but you should not be daunted. Many third-party businesses offer services in Singapore such as company registration. With their help, you should be acquainted with the steps to registering your business and accomplish them with minimal effort.
Even with their assistance, it helps to pay attention to the steps to company registration so you will not be misguided in the future. Here are some of the things you should know about registering your business.
1. Understand what Singapore's company registration requirements are
Compared to other countries, the requirements for registering a company in Singapore are lax. There are some requirements that you need to fulfil before you are allowed to register your company, but you can easily meet them. Some of the requirements you need to fulfil are at least one shareholder in the company, with a capital of at least SGD 1, a registered address in Singapore, and more.
2. Know what type of business structure your business will have
You can take advantage of three types of businesses when you undergo business registration in Singapore. One is the Private Limited Company (or Pte. Ltd.), Sole Proprietorship, or Limited Liability Partnership (or LLP). These three structures all have their advantages and disadvantages—for example, some are easy to dissolve if the need arises, and some are better for ease of succession.
3. Get approval for your company's name
Your company name is the first step that determines the uniqueness of your company and how well-received it will be. You must remember some things when you get approval for your company name. Firstly, any other company must not have taken your name. It must not be similar enough to another company's name that it could be mistaken. It also must not be infringing on any copyrighted text or images that are not owned by you or your company. Thirdly, your name may need higher authorities' approval if it contains words like 'bank', 'education', 'media', and many more.
Paul Hype Page & Co can help you jumpstart your business and take care of the minutiae. If you need help with payroll in Singapore, reach out to them via their website.